Today modern society is busy. People want to get things fast, including food and drinks with quality. Meanwhile, Australians consumed 1.91 kilograms of coffee each year. This number shows an incredibly high demand for coffee consumption and business in Australia.
The best flex for smart entrepreneurs to get into this industry is to start a mobile coffee shop; otherwise, franchise it. Here is the list of information containing popular mobile coffee business franchise opportunities in Australia that you should never overlook.
1. Cafe2U Franchise
Cafe2U is the first and biggest mobile coffee franchise in Australia. It has more than 240 coffee trucks worldwide, such as the UK, New Zealand, and South Africa. Cafe2U is considered the pioneer in the mobile coffee sector.
Cafe2U's franchise system is popular for its capacity to allow Australians to start their mobile coffee trucks without a complicated deal with rents, landlords, and staff. What'sWhat's more; the franchise services exclude some future expenses involving the van and all extra set-up costs.
It is noteworthy that every exclusively assigned location will get comparable competitive advantages. However, the discrepancy may happen based on how much effort and working hours each business partner will pursue.
With such an abundant built-in system of the Cafe2U franchise, Smart Investor Magazine recently awarded Cafe2U the best value franchise system.
Cafe2U franchise investment cost starts from $136K with some good and services tax.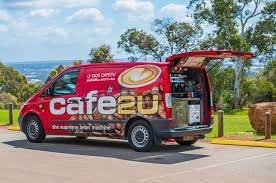 2. Cappuccino Xpress Coffee Vans
Cappuccino Xpress mobile café van franchise is one of the best franchises for entrepreneurs and opportunists who wish to start their mobile café journey throughout Australia.
Cappuccino Xpress coffee vans have unlimited potential. For instance, all allocated business zones generate equivalent earning opportunities if the franchisees have strong commitment and perseverance.
With this franchised service, you will be fully equipped with all the necessary coffee machines and accessories to operate your coffee truck business successfully in a short time. Besides, you will get a standardized and practical business model with a high-quality product, dedicated team, and reliable training program.
The cost of Cappuccino Xpress Coffee Van Franchise varies based on each customized demand.
3. The Coffee Guy
The Coffee Guy is the latest player in the mobile coffee franchise business in Australia. This Australian coffee franchiser now is a trend for its low setup and ongoing costs.
Every van is built with elegant stainless steel decoration. Besides, it is equipped with the highest quality Italian espresso brewers and tools to operate a successful mobile coffee shop.
The Coffee Guy nowadays becomes a major part of the Retail Food Group, alongside other prominent trademarks across Australia, New Zealand, and internationally.
The investment cost of The Coffee Guy franchise Investment would start from $44k plus other goods and services tax.